Üzümlü (meaning grape yard or place of grape) is now known as Yeşil Üzümlü (The word Yeşil meaning green was added because of the amount of greenery around the village) is situated in the foothills of the Taurus Mountains 18 km away from Fethiye in Turkey.
Üzümlü is located under the ancient Lycian site of Cadianda on a fertile plateau which it shares with the neighbouring village of Incirkoy (meaning fig village) surrounded by the imposing Taurus Mountains. At 500 meters above sea level the summer temperatures are more pleasant and not as humid as Fethiye and other coastal resorts in this area Turkey.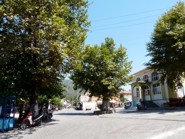 The heart of Uzumlu village is its square, encircled by a handful shops, a mosque and the all-important teahouse the traditional meeting point and hub of all village life. Wandering around the small lanes that fan out from the square, you'll come across some fine old Ottoman houses. Sitting outside their homes you may see the women weave a pure cotton material known by the name of "Dastar" on traditional pedal-looms. In recent years their products have become a popular purchase among tourists giving the woman of the village an important source of income.
The village has its own bakery selling delicious fresh bread, a Butcher for your meat, post office, plus other shops that can supply all your basic needs. There is a weekly market on a Friday where you can to purchase fresh fruit and vegetables. Several restaurants and bars can be found in the village along with a wine bar and a Pide (the Turkish version of a pizza) restaurant, serving food and drinks throughout the day. There are several other restaurants on the main road out of the village and all are worth a try, so you don't have to venture further afield for a meal out if you don't want to.
Üzümlü has all the gentle charm of a traditional working village; one that is full of life and which has in no way surrendered its character to tourism. The locals use the land to make their living producing olive oil, tobacco, figs, wine, grape juice and vinegar. You will see goats being taken out to graze in the morning and returning home at night. There are fields of cotton, wheat, barley, vegetables, fruit and vines producing an abundant variety of grapes all being transported either by tractor or donkey. During May it is very pretty as there are an abundance of wild flowers.
To visit Üzümlü is to get a taste of real Turkish village life, becoming part of a traditional community whether taking refreshment in the local teahouse, or wandering around the small outdoor weekly market. It's the perfect place to relax and unwind whilst enjoying mountain views some of which are snow capped during the winter and spring, a ideal getaway but only 15 mins from the tourist resorts of Calis and Fethiye. There is a local bus service that runs to Fethiye you can find the times by clicking here
Local Transport