FREE UNBIASED HELP & ADVICE ABOUT BUYING IN TURKEY
Having been through the whole process of purchasing in Turkey, we have been involved first hand with Estate Agents, the buying process, builders and after sales support.
When we first started to look for properties in Turkey, we soon learnt that finding a good reputable Estate Agent was the most daunting task and almost put us off buying at all.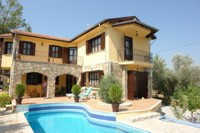 Having spoken to a lot of people who had already bought and heard both good and horrific tales of how different Estate Agents had conducted the sales and after sales, we decided to segregate the good the bad and the ugly.
By going on recommendation and visiting different Estate Agents we bega
n to view properties from people we had already had insight into, which made the whole experience much more relaxed and enjoyable.
As a result of our experiences we have decided to offer our insight to others. We now provide a free unbiased advice service and tailor your requirements to the the Estate Agents best suited to giving you the best selection of properties for you. We will then e-mail you a list of property details and pictures from our carefully selected Estate Agents in the areas you are interested in. We also now have properties for sale directly from from the owners
We have had our villa now for a number of years and as a result we have been able to continually build on this knowledge.
If you would like us to do all the initial leg work for you please feel free to e-mail us at
propertyadvice@uzumlu-villa.co.uk
See a selection of Properties for sale in Uzumlu