Patara Ancient Ruins and Beach Turkey
A wealthy city at the mouth of the Xanthos River was one of the most important cities as well as the major port of Lycia and then after its capture by Alexander the great it was also a navel base. Eventually the river mouth silted up and the area was turned into marsh It is believed that Apollo spent the winters here and that there is a temple (still to be found) that equals the famous temple on the island of Delos where he spent his summers. Patara was a place of St Paul's missionary work when he was on route to Jerusalem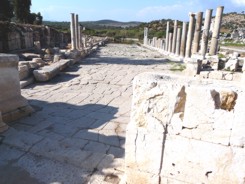 at the end of his 3rd missionary journey. It was also the birthplace of St Nicholas in 300AD who later became bishop of Myra and we now refer to as Santa Claus. During the Roman times it was the judicial seat of the governors although many ruins remain buried in the sand there are still some of interest to be seen. These include: The worlds oldest and most comprehensive Road Sign showing the distances between the Lycian cities (ordered by the Emperor Claudius), a Roman type Triple- Arch that
was the gateway into the city built in 100AD, a bath complex, a Necroplis (Cemetery), Byzantine basilica, the large granary of Hadrian, The Cistern and near by the remains of the Harbour Lighthouse.
The local village of Gelemis is approximately 1.5km away from the ruins and it is a further 1km through them to:
The Beach, which is a national park. The 18-20 km of sand has mountains at each end and sand dunes along its length as well as the marsh that was once the harbour. Home too many birds as well as being a breeding ground for loggerhead turtles. It is a gorgeous place to relax,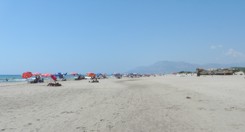 enjoy the sun and swim. Because the village of Gelemis is only small and no large development can take place within an archaeological area, the beach never gets crowded and will hopefully never be spoilt. Perhaps the only draw back to this beach is the fact that there is very little shade although you can hire a parasol.
Click for Patara Slide Show